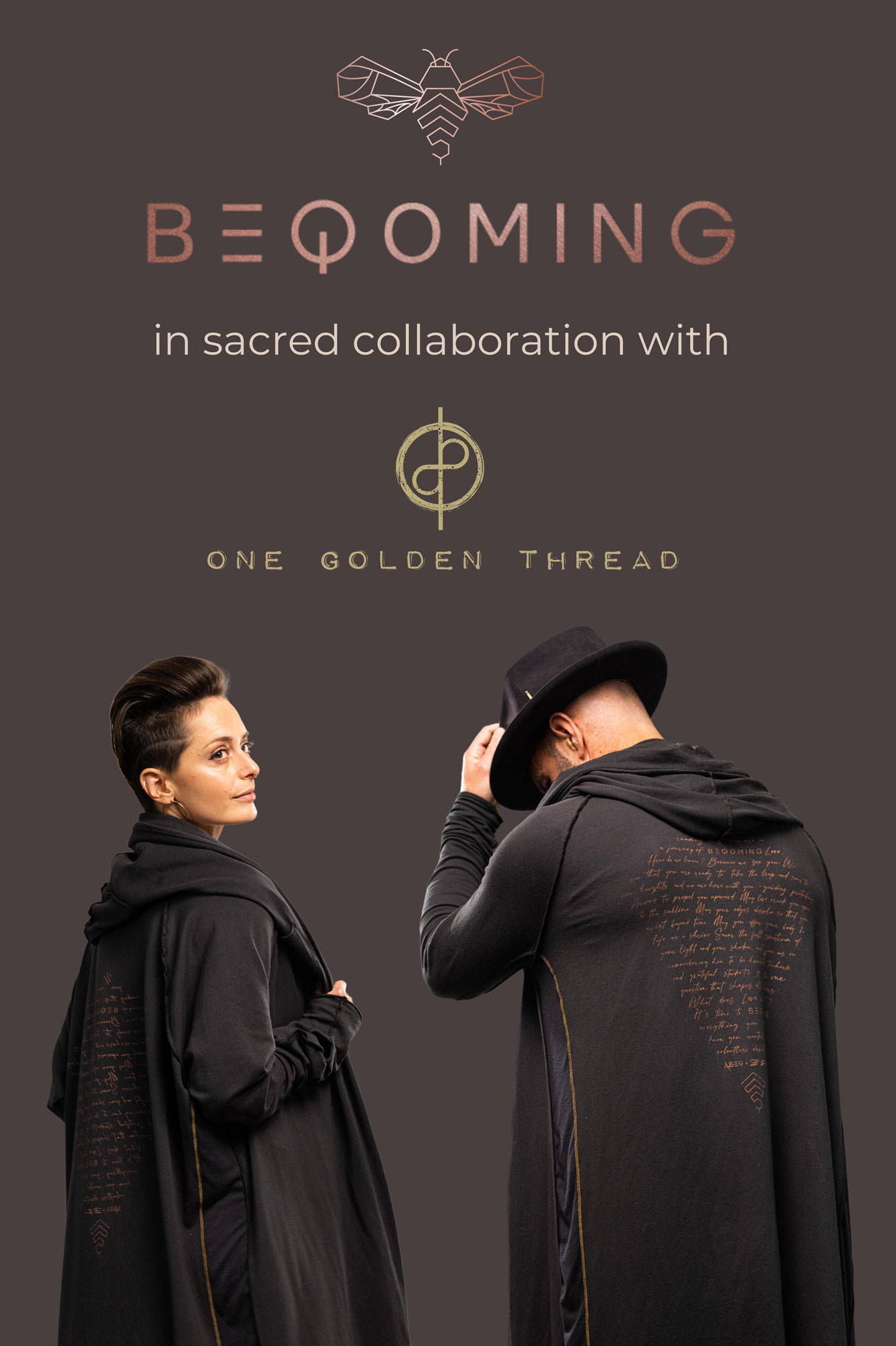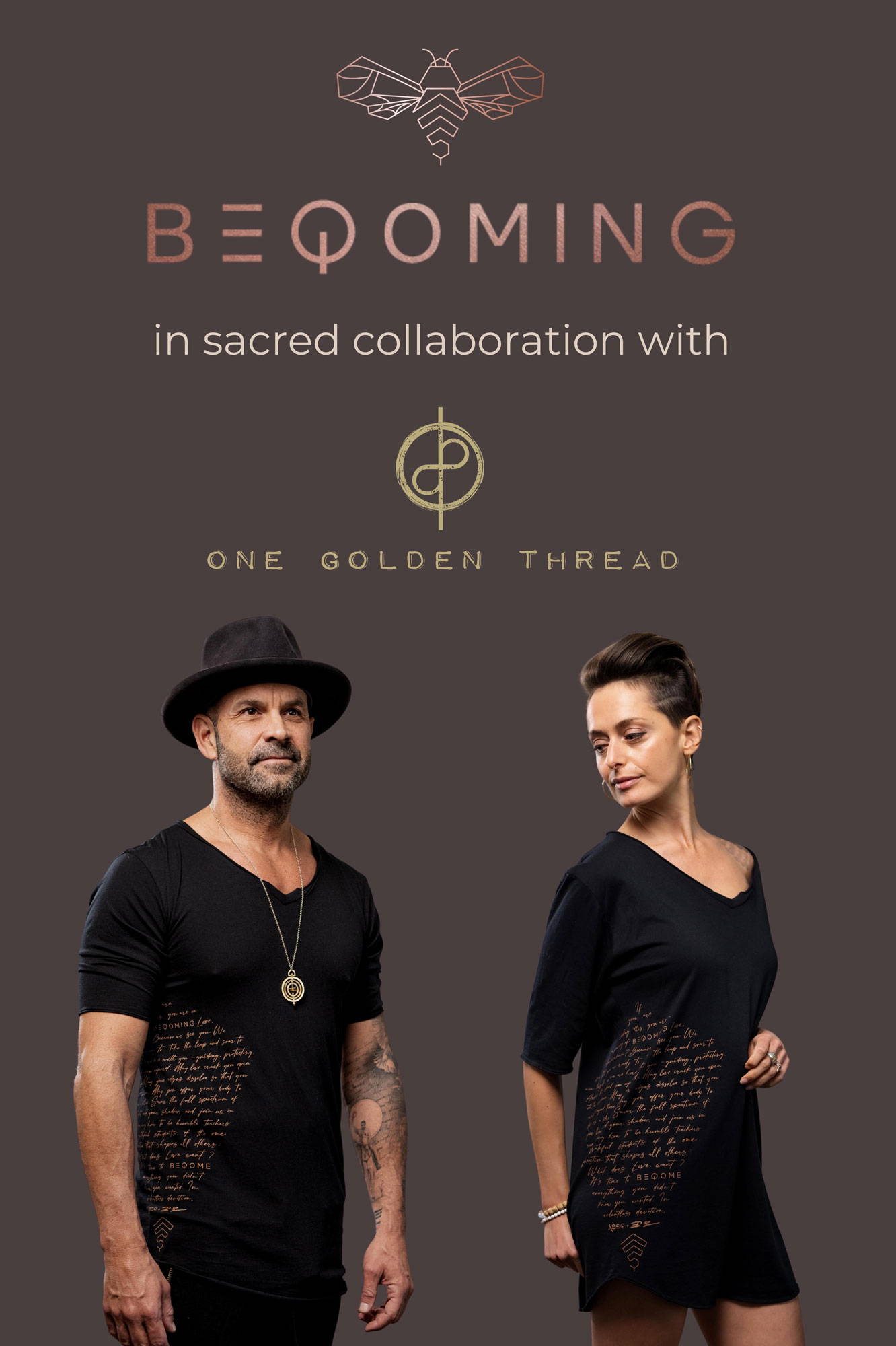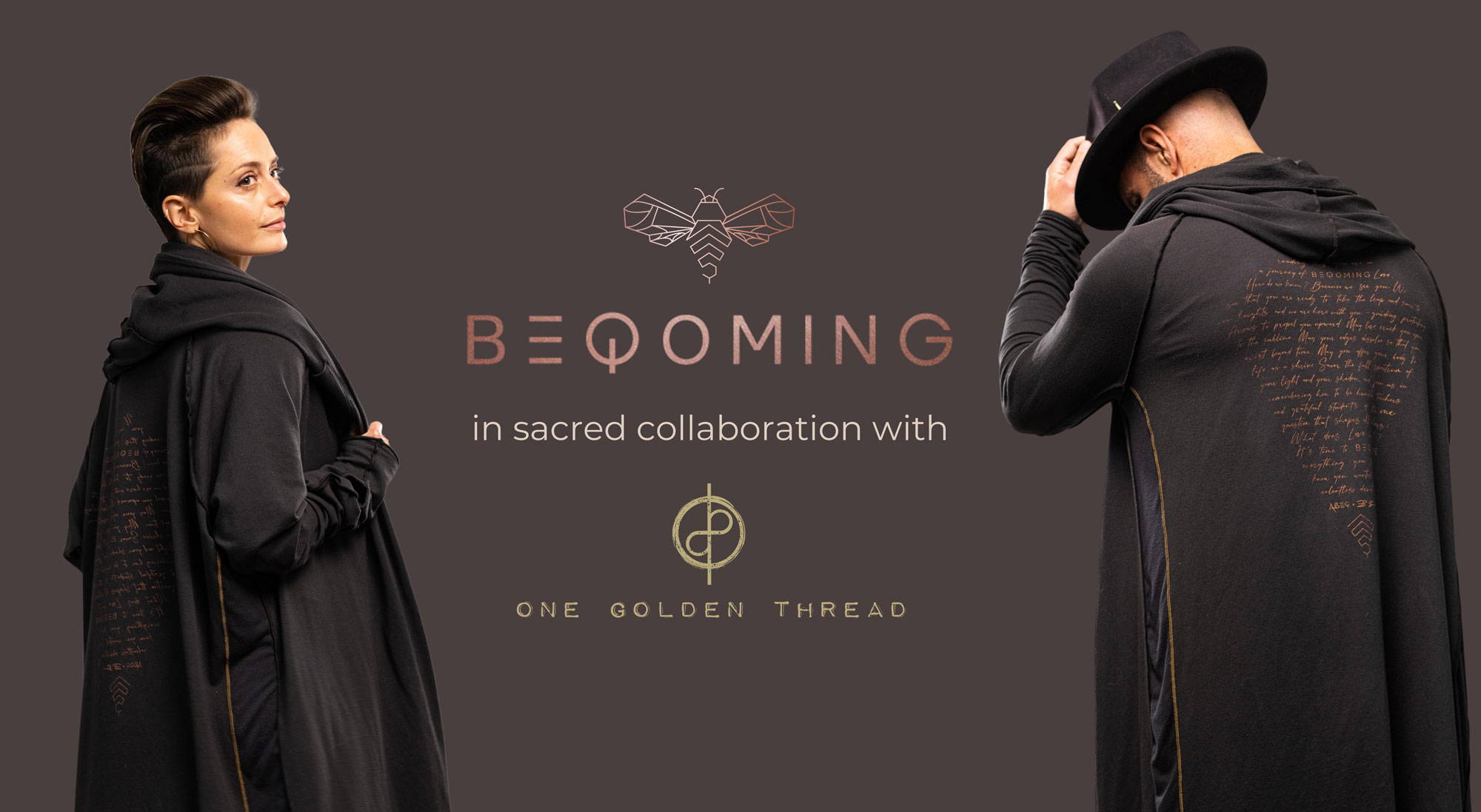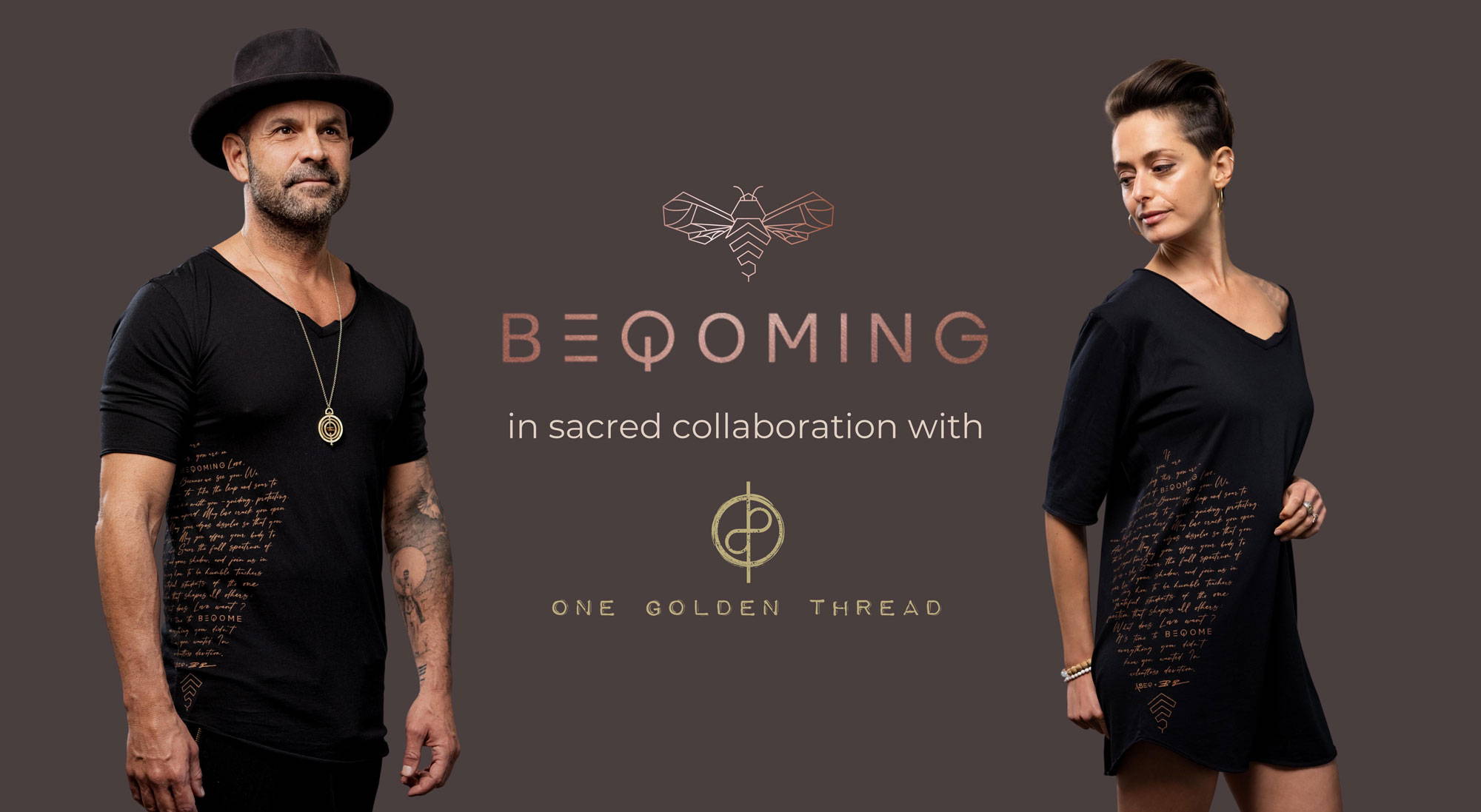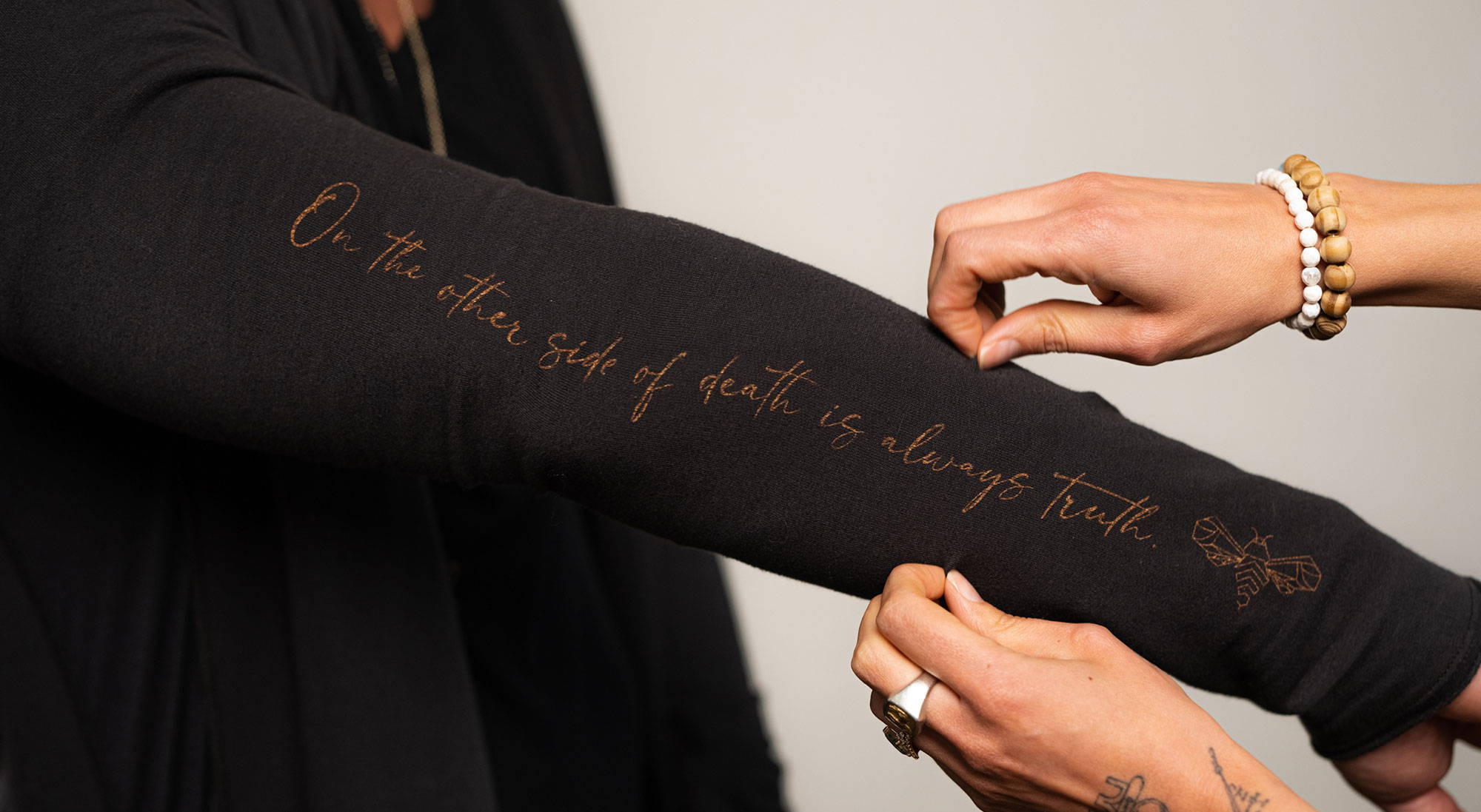 TREE SHIRT | DUSTER | BOOK
"IT'S TIME FOR
EVERYTHING YOU DIDN'T KNOW YOU WANTED."
- Benjamin & Azrya
is thrilled to be partnering in a creative collaboration with our favorite clothing company: One Golden Thread.
Not only is this Public Benefit clothing company totally committed to regenerative manufacturing, the fabrics are so heavenly yummy you'll never want to take them off.
For the design we have written you a declaration of sorts…read the DECLARATION below, and wear it with sovereign pride as it speaks to you, the sleeve graphic emulating Azrya's tattoo of a Kim Krans quote which says:
On the other side of death is always truth
It is our intention in sharing these pieces that wearing them brings you one step closer to
Everything You Didn't Know You Wanted.
In relentless devotion, Azrya and Bee Bequer
If you are reading this, you are on a journey of
Love.
How do we know?  
Because we see you.
We see that you are ready to take the leap and soar to new heights, and we are here with you - guiding, protecting. Arrows to propel you upward.
May love crack you open to the sublime.
May your edges dissolve so that you exist beyond time.
May you offer your body to life as a shrine.
Savor the full spectrum of your light and your shadow and join us in remembering how to be humble teachers and grateful students of the one question that shapes all others: What does Love want?
It's time to BEQOME everything you didn't know you wanted.
In relentless devotion, Azrya and Bee Bequer
WHO IS BEHIND THIS INITIATIVE
This high vibrational clothing collection is presented in collaboration with
, a sovereign leadership platform for activating personal power, and One Golden Thread, a public benefit company devoted to catalyzing connection between humanity and nature through ethical nature-sourced clothing that regenerates nature, as every item sold plants a tree.
FEATURES
SUPER-NATURE | ECO-LUXE FABRIC




Made from an equanimity blend of regenerative Beech Tree fiber and Supima Cotton, the top 1% of ethical cotton. Bunny rabbit soft, anti-microbial and constructed durable for life.

REIMAGINED TEE DESIGN




Elongating fitted design to flatter the human form, longer bicep-hugging sleeves, open-cut neck, c-hem design for ease of sliding hands in pockets, stitches left raw, just like life.

STRETCH TO DESIRED FIT




Rock as is - currently slightly longer than a traditional crew at waistline - or conform to your form; you can stretch up to 2 extra inches in length for a longer look, the same in width.

IT'S REVERSIBLE




Choose your adventure: One side a clean crisp classic look, and flip it as an overlocked stitched tee to rock in confidence. Wear the I Trust You message on the inside as a reminder to trust your self, or out to the world. Either way, it's a golden vibe.

IT'S UNISEXY




Truth story. Every body positive.

GOLDEN GIFTS




A golden thread weaves through your pieces, a second golden thread gift for you to tie on your wrist, and a tree is planted in your name and your Tree Shirt. You are Regeneration.

CARE




Machine Wash and fire dry to return to original shape.
FEELING
What's the feeling? That you will want to hug yourself.
Fits true to size with stretchability to customize your best fit. Can be stretched up to 2" in length as well as width.

5' 11" 175 lb male is perfectly suited for a size Medium.